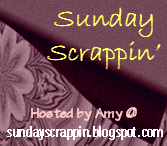 Whoo-hoo! My new scrapbooking meme is up and running. I'm the first participant, of course, so here's my first post.
My intro:
I'm Amy. I love to scrap, make cards, and rubber stamp... but I have very limited time for any of those things since I've had kids.
My Ta-Da's for the week:
nothing other than starting this meme, and creating the site and button to go with it!
My To-Do's for this week:
I'm starting on my Christmas cards-- cutting cardstock for the fronts and beginning to stamp the inside images.
If you like to scrap, stamp, or make cards, I hope you'll play along with
Sunday Scrappin'
!