How have I missed this meme before? Anything frugal is right up my alley! :) I can't wait to go check out everyone else's frugal tips!
One of my favorite things to do is read... mostly books, a few magazines. The thing is, I have no budget anymore for books and magazines. So, everything I read, with exception of a few rare craft magazine splurges... comes to me for free.
For
magazines
, I regularly sign up for free offers. I don't do any that require my credit card number-- I assume they'd try to bill me at some point. Instead, I stick with free trial offers of the no-strings-attached variety. I've used
Free Biz Magazines
and other sites. Here are two current offers that I'm aware of:
Books:
Almost everything I read-- and I read
every
night before bed-- comes from either the library or
PaperBackSwap
. If you're not familiar with
PaperBackSwap
, it's a FREE club where members swap their used books with each other. You can enter a wishlist, and if someone posts those books, you're notified & it's automatically requested for you. I have really enjoyed being a part of PBS.... it's meant free books and decluttering, all rolled into one!
So, there you have it, my frugal ways to feed my reading habit. Be sure to stop by Frugal Friday at
Biblical Womanhood
for more great frugal tips!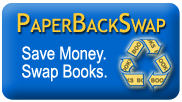 P.S. If you use one of my links or buttons for PaperBack Swap, you'll help me earn even more FREE credits-- thanks! :)