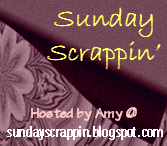 Ta-Da's:
Well, for once I think I actually met all of my goals from last week- whoo hoo! I made and sent out all six of my glittery snowman cards for th
e "All That Glitters" swap on
SCS
. I was happy with the way these came out (for a change!) and had fun playing with all the sparkly stuff.
I also completed not one, but two card challenges. OK, ok, so I cheated a little on that last one... both challenges were compl
eted using the same card. ;) The color scheme came from
this weekend's Inspiration Challenge on SCS
, and the layout came from
Beate's Weekend Challenge
.
By the way, you'll notice both cards have some flower confetti~ on the snowman, it forms the ball on his hat. I found my new favorite embellishment in the Easter aisle at Hobby Lobby for less than $1, and I'm having a lot of fun playing around with it. You'll probably be seeing a lot more of it in the next few weeks! :)
You've probably already seen my other "ta da" for this week... I did a facelift over at the
Sunday Scrappin'
site. :)
To-Do's: This next week I'd like to finish up those preschool scrapbook pages I was working on last week, and get some pictures up for those of you who asked about them. I need to get my 6x6" recipe swap pages done and mailed- I have the idea and the supplies, now I just need to get them put together! I'm also going to challenge myself to participate in at least one card challege again this week... that was fun, and it motivated me to get something done.
This week's bonus question: What are your favorite crafts sites? They can be blogs, commercial sites, or forums.
Most of my favorites are listed in my right sidebar. I'll tell you about my top two favorites:
SCS (Splitcoast Stampers)
and
Stampin' When I Can
. I enjoy SCS for the swaps and the gallery- there are so many talented ladies there! (You can see
my personal gallery on the SCS site HERE
.) I enjoy Stampin' When I Can because not only is the author, Allison, a talented card maker herself, but she also provides tons of links each week to other great paper crafting sites.
If you do any sort of paper crafts, I hope you'll come
and join in the fun at
Sunday Scrappin'
!