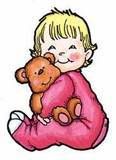 Right now, DH and I know of six couples who either have had a baby in the last month or are expecting one within the next few months. All of these impending arrivals meant that today I got to go baby shopping! Who can be in a bad mood surrounded by teeny tiny pink and blue clothes? :) I hadn't been to a mall since... well, I don't remember the last time... and I discovered that the stores have decided that it's almost fall already, so all of the summer stuff is already on clearance. I picked up a few adorable Carter's baby outfits today on clearance for $5-7 each, and I think they'll make great gifts.
For two of the impending arrivals, though, I'd like to add something a little more special.... any ideas? I can't spend a fortune. Right now I'm thinking of making dinner to take to them in the week after they come home- either a hot dinner that I can deliver, or a casserole they can freeze and eat later. I could also make them something crafty- I considered a blank scrapbook (my pages ready for their photos). Any ideas?
P.S. On a more serious note: One mom that we know had posted online this morning that she thought she was in the early stages of labor, and another had some questionable ultrasound results this week, so those two are especially on my mind and in my prayers today. If you'd like to offer up a little prayer for them yourself, I'm sure they'd appreciate it!