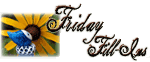 1. You know you're old when your younger sisters want your high school stuff because it's "vintage".

2. My heart is divided between

working

and

staying at home.

3.

A full night of sleep

is what I need RIGHT NOW!

4. I have felt the

joy of true love,

I have known the depths of

depression.

5. Gah, won't these people

quit focusing on money already.

6.

Try the Taco Bell mango frutista drinks

as soon as you can!

:)

7. And as for the weekend, tonight I'm looking forward to

watching the opening ceremonies of the Olympics,

tomorrow my plans include

a picnic at the park with a friend,

and Sunday, I want to

go to church & DD's school open house.