(Scroll down for yesterday's Weight Loss Challenge post!)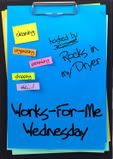 This is something that I've done since 2002, and I really enjoy it. I volunteer for a wonderful group called ChemoAngels. As volunteers, we adopt a patient who is undergoing treatment for cancer (chemo or radiation) and stay with them throughout the course of their treatment. Each week we send them snail mail... small gifts, cards, letters. It's so easy to do-- once you get started, you quickly learn to keep a small "stash" of cards and mail-able gifts on hand, and then all you have to do is pop them in the mail each week. This works out perfectly for me, since I can do it from home, and traditional volunteer work is out right now while I have two small children at home.
I've had a wide variety of patients, elderly through children, and a few of them have even written back to me. (One thing you have to understand before volunteering is that this isn't a pen-pal program-- recepients are not required to respond to you in any way.) And, even with my silent buddies, I KNOW it makes a big difference... a few years ago I signed my grandma up to be on the receiving end of the program. She would get so excited when a package arrived that she'd call my mom right away to tell her about it. It really helped her when she was struggling through treatments to find those happy little surprises in the mail.
If you might be interested in volunteering, check out
http://www.chemoangels.net/
. And if you know someone who is going through treatments and could use a little support, have them check out the site. (You can't sign someone up without their knowledge.) They also have a sister program, called Senior Angels, for homebound elderly.