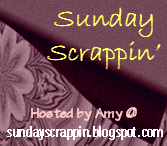 I have photos this week- but right now, I have a one year-old climbing in and out of my lap. So, I'll add the photos later on when he's napping and I have two free hands!
EDITED TO ADD: Ok, so the photos still haven't made it online- soon, I promise! :)
TA-DA's:
In the past week I've addressed all of my cards, stamped and signed the backs ("handstamped by Amy"), and figured out a solution to
my vellum problem
. I bought the eyelets and brads I'll need to attach the vellum- they were 50% off, so I was pretty happy!
TO-DO's: My goal for today is to get all of the vellum squares for the front panels of the cards cut out and ready to stamp. (Two squares per card, total of 75 cards.) My goal for the week is to get the vellum squares stamped and mounted on the card fronts.
THIS WEEK'S BONUS QUESTION: SHARE A FAVORITE TIP OR TECHNIQUE YOU'VE LEARNED RECENTLY. Hmmm.. that's a hard one. I think the best tip I've learned recently came in the form of online research for my vellum problem- I learned that you can't use any sort of adhesive with vellum. I've worked with vellum before, but it was always layered underneath other papers, so bleed-thru wasn't a problem. If you're going to have vellum as your top layer, you have to figure out how to use it without having yucky glue or adhesive marks showing through. In my case, I'll be attaching the squares with brads and eyelets.
If you do any kind of paper crafts, I hope you'll join us over at
Sunday Scrappin'
! Post your accomplishments and goals for the week, and then visit other Sunday Scrappers to cheer them on and enjoy their projects!