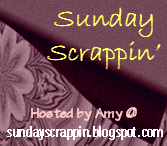 A day late on my own meme.... kinda goes with how my last week has been. Due to what feels like
the plague in our house
, I have done absolutely nothing with my Christmas cards or any other crafts-- no
Ta-Da's
to mention. As for
To-Do's?
Well, that list is a mile long! :) In the next three days I have to finish all of my cards-- this includes last week's tasks of cutting and stamping and adhering three pieces to the front of each card, signing them all, and getting them out in the mail. Yikes!
And for the bonus question: Do you ever find yourself in a position where your paper crafts aren't fun at the moment, but you feel obligated to finish them?
Well, definitely, yes to that right now. The Christmas cards started out as fun, but right now I am SO very tempted to just save them for next year and run out and buy a couple of boxes of cards to send. But, I won't.
If you do any sort of paper crafts, join us for a weekly show-and-tell over at
Sunday Scrappin
!