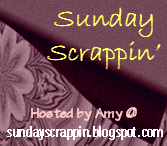 My ta-da's this week: Not much craft-wise- I think the only thing I've created was helping my daughter learn to use her new princess fashion plates toy. ;) In related news, though, DH moved my (unassembled) craft cabinet and helped me move my craft table downstairs, to this room where the computer is. Today's project is to get the cabinet put together and then I will finally have a designated craft space. :)
My to-do's: Thank you notes-- I haven't made or sent any since Christmas yet. Whoops! I also need to get busy on some swaps that are due in a few weeks- a 6x6" recipe swap, for one. And, of course, the above mentioned craft cabinet.
This week's bonus question: Do you prefer to stick with only big name-brand supplies (Creative Memories, Stampin' Up, etc.) or do you usually buy less expensive supplies? I am a bargain-hunting, thrift store shopping kind of girl in every other aspect of life, so of course that applies to my crafts as well. I do love Stampin' Up, but I simply can't afford a lot of their stuff. My supplies often come from Odd Lots, WalMart, the Dollar Tree, and wherever else I can find inexpensive ways to feed my habits.


If you do any sort of paper crafts (not just scrapbooking), I hope you'll join us over at
Sunday Scrappin'!