JULIE: Don't read this post, it shows your birthday card! LOL! :)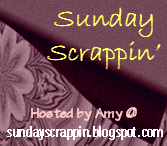 TA-DA's:
Well, I was going to hold off on posting until later tonight, but we'll just go with what I have done so far. ;) I have pieces/parts laid out on my craft table for the glitter card swap I'm in, but I've hit a wall creative-wise, and will have to come back and work on those some more tommorow.
I made a quick card (shown at left) for my sister's 30th birthday, using "card candy" that I was given by an anonymous elf (the stamped greeting & candles). If you'd like more details on the card & materials used, please see
this card as posted in my Splitcoast gallery
.
I've also been working on DD's preschool scrapbook. Mostly what I've gotten done is putting her artwork onto pages. A lot of times it takes up nearly the whole 12x12" page, so there's not much room for embellishments or journaling. I'll have to take pics of some of those pages to share with you next week.
TO-DO's: I've got to get the glitter cards done and in the mail this week. I'm also setting a challenge to myself to complete at least one card challege this week, either from Splitcoast Stampers or elsewhere. (Stampin' When I Can is a great place to find challenges, some with prizes!) And, I'll keep working on DD's scrapbook.
THIS WEEK'S BONUS QUESTION: Do you sketch your ideas or do you just put things together as you go? I rarely sketch anything out on paper- I usually just kind of play around with things until I come up with a layout that I like.
If you do any sort of paper crafts, not just scrapbooking, I hope you'll join us over at Sunday Scrappin'!