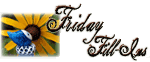 1. When I'm sick I'm
usually wanting to be left alone.
2. When I take a walk, I think about
all the little things my kids are pointing out that I wouldn't notice if I walked by myself. They get fascinated with the tiny bugs, the new construction in our neighborhood, and everything in between. Our evening walks take quite a while sometimes, but they're enjoyable! :)
3. Money can't buy happiness
but
it can
buy fun things like stamping supplies and ice cream. :)
4. Cotton makes me
comfortable
and leather makes me
think of my favorite boots
.
5. The strangest person/character I've had lewd thoughts about was..
hmmm, I really have no good answer for this one.
6. My favorite color these days is
purple
because
it's always been my favorite color. It "feels" vibrant and happy to me.
7. And as for the weekend, tonight I'm looking forward to
working on some craft projects and relaxing,
tomorrow my plans include
cleaning out the spare room
and Sunday,
going to church and I'm not sure what else.