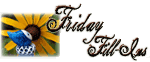 1. The last band I saw live was Rascal Flatts.
2. What I look forward to most on Thanksgiving is pumpkin pie.
3. My Christmas/holiday shopping is started- and I hope to get the majority of it done this weekend.
4. Thoughts of worry about a particular loved one fill my head.
5. I wish I could wear a smaller size clothing.
6. Bagpipes don't really do much for me.
7. And as for the weekend, tonight I'm looking forward to Ghost Whisperer (although I may stop watching if they don't fix this dumb Jim storyline), tomorrow my plans include Christmas shopping and Sunday, I want to do some baking after church.