...and all through my house, every creature is running ragged, though thankfully no mouse. :)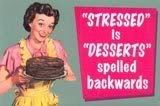 This list is probably for my own sanity more than your interest, but here's where I am on holiday preparations:
- Half the stockings are hung, half are missing! (Somehow they didn't all get packed together last year--??) I haven't put up all the Christmas decorations we own and don't intend to-- neither time nor the hands of a curious 2 year-old make that prospect very appealing this Half the stockings are hung, the other half are missing.year. I think the four trees and various other small decorations will be enough this year, though I WILL find the two missing stockings!

-/+ The gift list is about 2/3 crossed-off. DH and I are finally getting an evening to shop together tonight, so hopefully we'll finish it up tonight.

- I have NO voice. DH and DS came down with bad colds at the end of last week, and of course I caught it. I felt rotten this weekend, and today I feel somewhat better, but my voice is almost completely gone. ::sigh::

- My cards are still works in progress- nothing new since last week

.

Last night I sketched out and measured the layers (while laying on the couch counting the minutes until the kids' bedtimes), and when I get off the computer this morning, I'm planning to get them cut out.

- None of the gifts are wrapped, other than the two that were already delivered.

+++ I think all the holiday groceries are purchased and my carry-in dishes for various parties are all planned. Yay!!

- We're having a mock survey at work this week, which is like a "test run" on our state inspection. I'm scheduled to work three full days, with no chance of changing those hours.

- We're supposed to have a family photo taken Tuesday evening. Ha! The idea right now makes me laugh, but on the other hand, I really want that photo. Hopefully we will all be healthy enough to smile for a few minutes!
Every year I think I'll get things done by Thanksgiving, and every year I wind up with a million things to do this last week before Christmas. Oh, and if you're thinking I should be doing other things than blogging.... you're right! ;) So if I'm not around much this week, you know where I'll be- running around crossing things off that list.... or maybe just doped up on cold medicine and crashed on the couch. Either way, I doubt I'll be blogging a whole lot this week!
If you'd care to share your list, I'd love to hear it! Tell me I'm not the only one this unprepared.... please?! :)