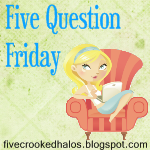 1. What is the weather like where you are and do you like it?
The last few days here in southwestern Ohio have been crazy... sunny and in the low 50's. We didn't wear coats yesterday or today. This is unheard of-- we should be shivering and shoveling snow by now!
2. When you're sick what do you seek comfort from? My warm electric blanket, hot soup, and mindless tv if I have to be awake.

3. What do you need to do before the end of the month? Finish putting away the Christmas decorations. :)

4. Have you ever served on a jury? No, but I've been called four times now. Each time I had to call in to see if I was needed each day, and I never had to go.

5. If you could be any animal, what would you be and why?
An indoor cat, because they are typically pretty spoiled and get plenty of quiet time when they want it.
.....................................
This post may contain sponsored reviews or affiliate links. You can read my policy here. I always provide my honest opinions.