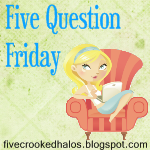 1.
Would you prefer having people over for dinner or going to their house?
I love having people here for dinner, because I love to cook. I have that "I love to feed people" gene that's usually found in 90 year-old grandmothers. My husband's co-workers have benefited from this desire plenty of times. :)
2. Favorite Bible verse and why?
Matthew 18:20
For where there are two or three gathered together in my name, there am I in the midst of them.
I love this simple verse because it's a reminder that all we have to do is ask, and He is right there with us.



3. What was the first concert you ever attended, and the most recent one?

The first concert I attended was a WOMAD music festival back in college, where there were multiple bands, multiple stages, and tons of fun stuff from different cultures. (Peter Gabriel was a founding member of WOMAD.) The last "professional" concert I attended was
Rascall Flatts
, around 2003 or so.
The very last concert I attended was sung by 1st-3rd graders at my kids' school. :)
4. The year is 2025. What are you doing, and what have you done?
Wow. My kids will be in college, and if I'm still at my current job, I'll have 29 years in.... just a year away from retirement eligibility. Hopefully by then I have earned my CDE (Certified Diabetes Educator) and switched careers, though.
5. What's your favorite Easter treat?
That's easy:
Cadbury Easter Creme Eggs
- I wait all year for them! But I also love
Peeps
... and
Jelly Belly Jelly Beans
(but not regular jelly beans).
This post may contain sponsored reviews or affiliate links- see my policy here.