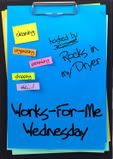 Library books used to be a source of frustration... we were forever hunting for one, trying to remember what we'd checked out, and returning things a day or two late. I've done two things that have pretty much ended that problem for us.
First, I purchased two tiny plastic totebags with handles for $1 each. (Something like
this
.) My 4 year-old DD and I each have one for our library books & videos. We try to store the books in there when we're at home, and we carry the totes with us when we go to the library. Taking them to the library with us also eliminates the problem of negotiating with DD on how many items she can check out... when her basket is full, she knows she's done. Each basket will hold about four books or movies.
Of course, the books do tend to wander away from the totes at home- we'll read in bed or watch a movie downstairs and not return things to the library basket. I'm working on making that a habit for us, but in the meantime, I've come up with a tactic that helps me get everything returned on time. When we get home from the library, I note on the calendar the day everything is due to be returned. In addition, I make a quick note about what is to be returned. My calendar entries look like this: LIBRARY: 5 books, 3 movies. That has proven to be really helpful!
These are really simple things to do, but they work for me. To read more Works for Me Wednesday tips and contribute your own, head on over to
Rocks In My Dryer
.