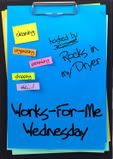 This week's theme for Works for Me Wednesday, hosted by
Rocks In My Dryer
, is birthdays.
My DD turned four in April, and we continued a tradition I started a few years ago regarding sending out thank-you notes. I sit down with her at the computer, and across the top of the page we write a line or two to each person thanking them for their gift & telling what DD likes about it. Then, in the bottom right-hand corner, we print "Love,
*DD's name*",
just as though she was signing a letter. The text is only across the very top and the bottm corner, leaving most of the page blank, so that she can draw a picture for the person. This year, she attempted to draw a picture of each gift-- they were pretty cute!
I really didn't think much about these, until this year when her Great Grandma started asking a few days after DD's birthday to find out when she'd be getting her picture. Apparently, the grandparents really appreciate this little piece of artwork. :)
That's a simple tip, but it works for me!