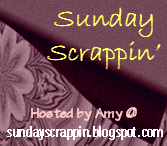 TA-DA's:
Last week
, as you may recall, I was working on assembling my new craft cabinet and setting up part of our computer room to be my new craft area. Well, I got DH to carry the cabinet box into the room, then I tried to lift it and start assembling the cabinet on my own while he was gone.
Tried
is the operative word there. Unfortunately, I didn't realize that that box weighed 80lbs, and I managed to pull a couple of muscles in my back because of the way I was trying to lift it. So ::sigh: it's still in pieces. I got all the pieces out, and will be able to put it together myself, but this past week with a sore back I just didn't feel like crawling around on the floor doing it. Maybe I'll bribe DH into doing it on his next day off.... :) In the meantime, I do have to table up, and I've brought about 1/3 of my craft supplies in here:
I also created and sent out a swap that was due- nothing to show, though, as it was just writing a letter about your favorite craft. I'm looking forward to receiving the ones from my swap partners, though- I might find yet another craft to try. ;)


TO-DO's:
Well, obviously, get the craft cabinet together. This afternoon I'm working on my card for
Beachy's Craft Challenge
- the idea has been in my head for a few days, so I'd like to actually get it done. And, I need to finish the scrapbook layout I've started of my kids in cowboy hats-- I'm going to frame it and hang it in our family room. (I have a 12x12" frame that I bought years ago for something else and have never used- time to make use of it!) I have the pieces laid out here on the computer desk- I just need a few kid-free moments to put it all together.
For this week's "bonus question": If you could only do one kind of paper crafts for the rest of your life, which craft would you pick? This is a hard question... and I'm the one who wrote it, LOL! I'm really into the cardmaking right now, but, I think if I could only pick one thing, I'd probably pick scrapbooking, so that my kids would have great albums from their childhood.


And on a side note, have you seen
this amazing craft cabinet
??? If I ever won the lottery (of course I'd have to start playing) I'd buy something like this. :)
If you do any sort of paper crafts, not just scrapbooking, I hope you'll join us over at
Sunday Scrappin'
!